Air Sampling Pulse Pump III
Features
* Adjustable flow rate
* Use for air pollution and industrial hygiene application
* Compact, reliable, field proven
* Alternative to expensive personal sampling system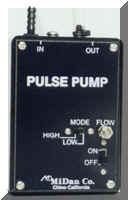 The MiDan Pulse Pump III is a versatile, low-cost personal air sampling pump. Its compact size and proven reliability make the instrument ideal for many air pollution and industrial hygiene uses. The unit's positive displacement dry piston pump, electronic controller, and battery pack are contained in a rugged case.
The pump offers dual mode operation; it can be used as a vacuum pump for filter sampling or as a pressure pump for filling gas sampling bags. The unit has an adjustable low flow rate variable from 1 to 20 liters per hour and a fixed high flow setting of 1.5 liters per minute. All controls are conveniently located on the front of the pump.
The pump is available with either disposable or rechargeable batteries, providing up to 100 hours of operation at the low flow setting before replacement or recharge is needed.
Applications
The Pulse Pump III can be used either as a personal sampling pump or as an ambient air collector for collecting a wide range of gases. Applications include grab sampling, vacuum sampling through filter media, and collection integrated air sampling for air pollution and industrial hygiene studies. It may also be used to transfer samples from one container to another. Gases sampled with the pump include CO, CO2, NOx, THC, SF6, Rn-222, C2H3Cl, CO, H2S, Freon 13-B1, Mercaptans, and many others.
Pulse Pump III Users Include
* U.S. Environmental Protection Agency
* State Health Departments
* NASA
* Industrial Hygienists
* Consultants
* Uranium Mine Operators
* Researchers
* Universities
* Refineries